The Lake Champlain Waldorf School has arrived at an historic moment. Quite simply, because of our programmatic growth and success, we are bursting at the seams. We have outgrown our high school, our grade school needs more room for gym and other subject programs, and we need our early childhood, grade school and high school to all be located near each other, in Shelburne.
After years of campus planning to address these problems, we have embarked on the Time is Now Capital Campaign to complete two transformative projects:
1) the purchase and renovation of the former Morgan Horse Museum in Shelburne, to be the new home of our high school, and
2) the renovation of the Community Room and practical arts rooms at the Grade School.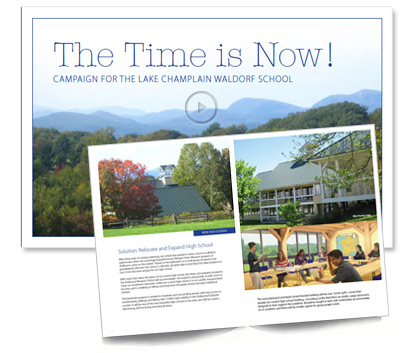 We are delighted to announce the final phase of our campaign, with over $1,700,000 already raised, including an enormously generous half-million dollar gift, the largest in our school's history.
Now it is our turn, our moment, to make our own historic difference, and make one of those momentous, once-in-a-lifetime stretch gifts! It is thrilling to be part of this community at this time in our history, standing on the cusp of a fabulous transformation of our school.
Thank you for your thoughtful consideration.